The 5 best flowers for January
The chilly winter days of January also brings some of our favourite flowers to start the year. Here at Funky Flowers, we love filling our flower shop in West Drayton with colourful blooms that brighten even the darkest of days. Our head florist Louise shares some of our most popular flower arrangements for the month of January– perfect for sending as a birthday gift or as a treat to enjoy in your own home! And with same day flower delivery available 6 days a week, it is never too late to order fresh winter flowers from Funky Flowers!
1. Ease the January blues with a houseplant
Cyclamen plants are a fab option for the home in winter months. These delicate looking flowers add a burst of colour, and we particularly love this pink shade! Cyclamen plants are a great option for you or to send someone special as they are easy to care for – they don't need too much watering and like a bright, cool spot in the house (keep out of direct sunlight though).
Our Popping Pink Cyclamen Plant is delivered carefully planted in an elegant and trendy grey ceramic pot, so you can simply find the perfect spot for it and enjoy!
2. Celebrate January birthday with Carnations
The beautiful Carnation is the flower that represents a birthday in January. We love carnations for a number of reasons; dainty petals with a unique frill look, rainbow range of colours, and long lasting! During the month of January we can create bespoke bouquets that incorporate Carnations, making it a thoughtful birthday gift to send in celebration.
After some inspiration? Check out one of our limited edition Happy Birthday bouquets designed especially for January. Pomegranate Punch Hand-tied is a stunning bouquet using seasonal flowers including cerise carnation, white stocks, cream roses, pink Limonium and pink chrysanthemum. With added green foliage, Pomegranate Punch Hand-tied is a beautifully textured and full bouquet. But be quick – this beauty is only available until the 31st of January!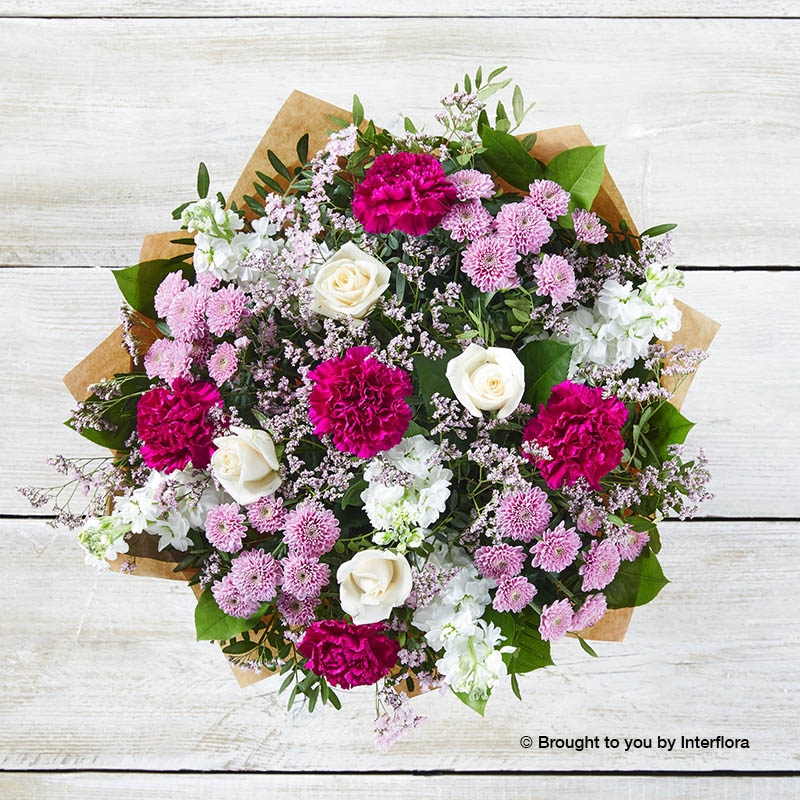 3. Add a touch of Spring
Designed for our new Spring gift collection, Bold Brights Planted Basket celebrates some of early Springs finest flowers! We love using a combination of vibrant flowers, which give a real country garden coming into bloom feel.
The Funky Flowers team source colourful Spring blooms including mixed primrose, blue muscari, yellow narcissi and Boston fern plant. We plant the flowers carefully in a luxury woven willow basket, so can easily be displayed in the home or office – no need to dig out a vase.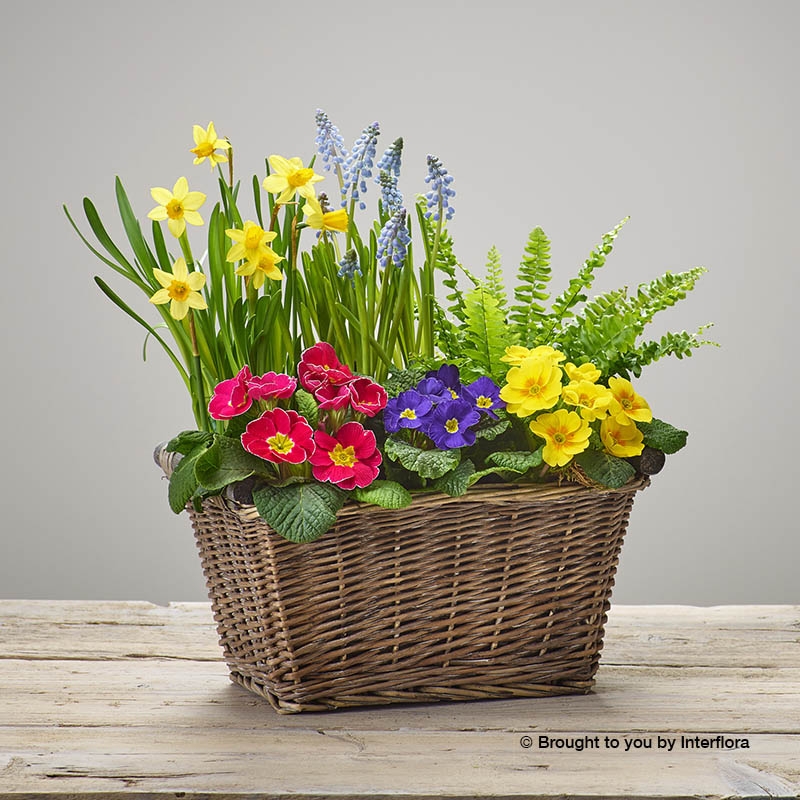 4. Totally in love with Tulips
Always in high demand with our customers in Spring, we just can't resist a good Tulip! One of the most iconic flowers for Spring, the name tulip actually originates from the Persian word 'Tulipan' which means turban.
Tulips come in a range of bold colours and can also have 2 tone effect with coloured edges or flame effect, so easily create a striking effect just simply displayed in a vase or jug to show off their shades. Our Tulip Medley Jug is a popular choice in Spring – we use fresh tulips in mix of rainbow colours and arrange in a cream jug, and add a dash of yellow limonium for texture.
Florist tip: Tulips are thirsty flowers, so make sure you keep the jug or vase topped up with fresh cold water to help keep your tulips looking their best.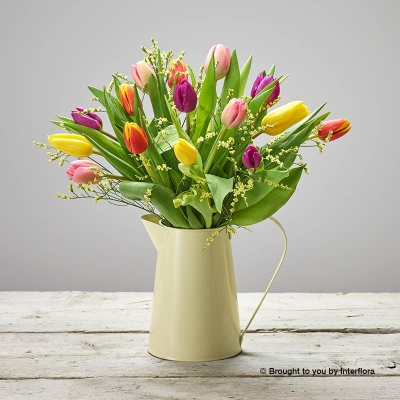 5. Purple delights
We are totally in love with this flower arrangement from our new Interflora flower range! Purple Twilight Hand-tied is something a bit different, with a sophisticated mix of seasonal blooms that are perfect for a wintery feel. Our florists source the finest pale pink roses, blue iris, purple lisianthus, lilac stocks and blue veronica – creating a dreamy vision of an English winter garden.
Stylish and elegant, Purple Twilight is the perfect floral design to send in celebration, and is available to order online until the 29th February.